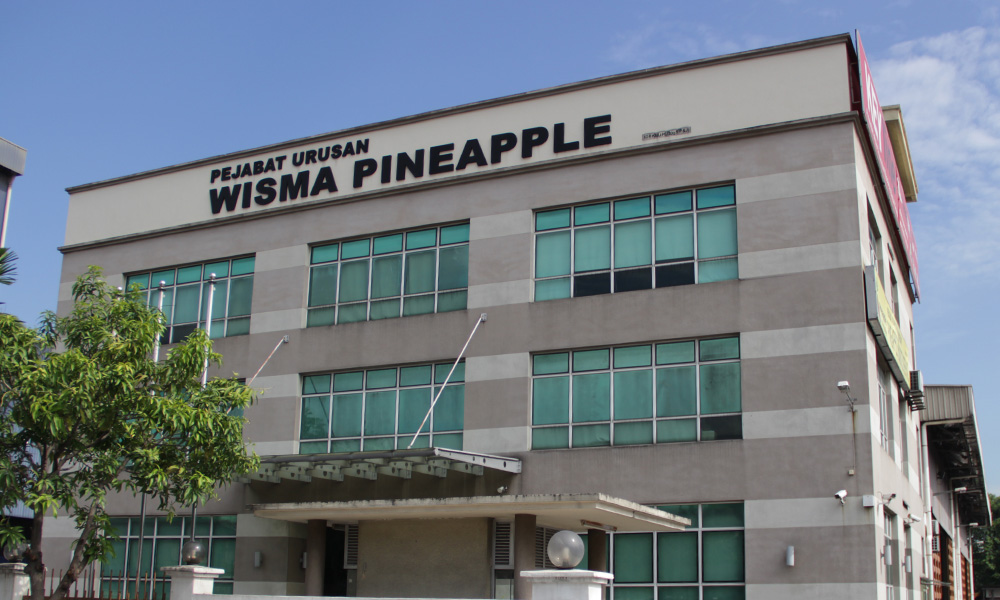 Pineapple Resources Berhad was incorporated in 15 December 2000 and was amongst the first few counters listed on the Mesdaq Market, KLSE (now known as the ACE Market of BURSA Malaysia Securities Berhad), being listed on 31 January 2002. Pineapple Resources Berhad and it's subsidiaries formed the IT Division of the larger conglomerate of the CHUAN HUAT GROUP OF COMPANIES.
Pineapple Resources Berhad's corporate Head Office viz. Wisma Pineapple is located in the capital city Kuala Lumpur, Malaysia. Wisma Pineapple is a multi storey office cum warehouse complex which house the centralised warehouse and distribution centre, administration and sales-marketing division of the Pineapple Resources Group.
A subsidiary, Pineapple Computer Systems Sdn Bhd ("PCS"} which was formed on 27 September 1995, is a leading distributor of major popular brands of computer hardware, peripherals and accessories and computer consumable products.  The Group is constantly identifying partners and sourcing for the latest quality products for distribution to appointed dealers and also the ready retailing network of the Pineapple Resources Group.
Other than the bricks and mortar business, the group is also ventured into the online markets via popular online shopping platforms like Lazada, Shopee and its own portal of www.pineapple.my.

The Group has further diversify into the Food and Beverage industry through the following subsidiaries:-
AGVA Marketing Malaysia Sdn Bhd which currently operates the following restaurants:-

Bhai Jim Jum, MyTown Mall, Kuala Lumpur
Bhai Jim Jum, AEON Taman Maluri, Kuala Lumpur
Bhai Jim Jum, Wangsa Walk Mall, Kuala Lumpur
Bhai Jim Jum, IOI City Mall, PutraJaya

Pinefood Sdn Bhd is the franchise owner of the Papparich Restaurants in Malaysia and Cambodia.